Meet Our Dental Team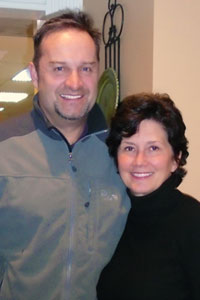 Dr. Kimberly Zizic and Dr. Robert Salata
Dr. Kim Zizic and Dr. Bob Salata prove that it takes friendship and professionalism to make a dental office succeed. Both graduated from the College of Dentistry at the University of Illinois-Chicago in 1989. They have been providing great smiles for their patients in their Libertyville Dentist office location since 1995.


---
Ruthie
Front Office
"Everyday I drive to Libertyville, IL from the state of Wisconsin. My drive is so ok, because I value where I work and who I work for; our dental team is like family, and our patients are wonderful."

---

Emily
Dental Hygienist
"I started working for Dr. Kim and Dr. Bob in 2001 after graduating from Southern Illinois University. I have a bachelors degree in Science of Dental Hygiene. I enjoy working with our dental team and our patients. I have two boys that keep my husband and I very busy."

---
Claire
Hygiene Assistant
"I am Dr. Zizic and Dr. Salata's oldest daughter. I recently decided to go back to school for Dental Hygiene because I love to help people. This office really puts our patient's wants and needs first. That is what sets us apart from the rest."

---

Lorry
Assistant
"I have been working here at the Libertyville Dentist office since 2004 and have really enjoyed being with my work family."

---
Maha
Assistant
"I have worked here since 2010. My husband and I have two boys in the Libertyville school system. This is my first job in the dental field. I like working with our patients and learning new things."

---

Sara
Assistant
"I have been working here since May of 2014. I love the energy and up-beat personalities of both our staff and our patients. It makes coming to work every day enjoyable."

---